Chelsea have announced an increase in wheelchair spaces available at Stamford Bridge from the start of the 2018-19 season.
The club was one of those needing to fulfill a Premier League promise, launched back in 2015, to reach a minimum number of spaces for wheelchair users inside their home ground.
From the start of the 2018-19 campaign, there will be provision for 219 wheelchair spaces at Stamford Bridge, with the club promising further improvements once their new stadium is built and ready for use.
A Chelsea statement read: "The club has worked closely with the Equality and Human Rights Commission (EHRC) and the Chelsea Disabled Supporters Association over recent months, and has agreed to increase our provision to 219 wheelchair spaces.
"Some additional places will be available this season before the total number becomes available for the 2018/19 campaign.
"Our fans are at the heart of our club and efforts to improve facilities and experiences for all supporters, including disabled fans, are made season on season at Stamford Bridge.
"The club recognises the need to improve the access to and experience within the stadium for disabled supporters, allowing for greater choice in the location and elevation of seating, as well as a greater number of accessible toilet facilities.
"We would like to place on record our thanks to the EHRC, and the architects and various consultants involved in this complicated project of reconfiguring our existing options at Stamford Bridge.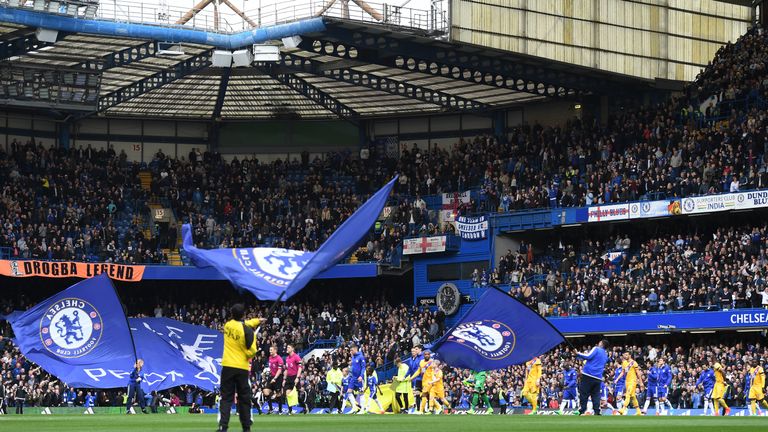 "The club will also be reviewing our ticketing policies for disabled supporters ahead of the 2018/19 campaign with new seating added to our matchday sales and advertised online through our existing media channels.
"This upgrade to seating will result in a necessary reduction of approximately 800 seats (or 2%) in overall capacity. Any season ticket holders affected or displaced by the works will be notified shortly and given first option on relocating their seats for next season.
"Our proposed new stadium at Stamford Bridge will further improve the experience for our disabled supporters, offering a world-class matchday experience for all fans and ensuring the long-term future of the club. It will be a new destination that compares to other great stadia around the globe, strengthening London's status as the world's leading city of sport."
http://www.skysports.com/football/news/11668/11247379/chelsea-to-increase-stamford-bridge-wheelchair-spaces-to-219-ahead-of-next-season