The mother of a wheelchair user forced off a bus has urged drivers to do more to help disabled passengers.
Caroline Hazelgrave said her son Luke, 26, who has cerebral palsy, was asked to get off a Leeds bus when a passenger would not stand to allow his wheelchair on.
The incident followed a Supreme Court ruling in January that bus drivers must do more for wheelchair users.
First Bus said it was "disappointed" Mr Hazelgrave was unable to travel.
Mrs Hazelgrave, from Garforth, said her son had already waited for three buses to pass before one arrived with room for him on 7 March.
'Done nothing wrong'
When he boarded with his support worker, a passenger sitting on a pull-down seat said he would not stand to allow the wheelchair to park safely.
Mrs Hazelgrave said: "The support worker asked him nicely if he wouldn't mind moving so my son could position his wheelchair in the space. The man refused to move."
She added the driver then filled in a form for her son which said he had to get off because the bus was full.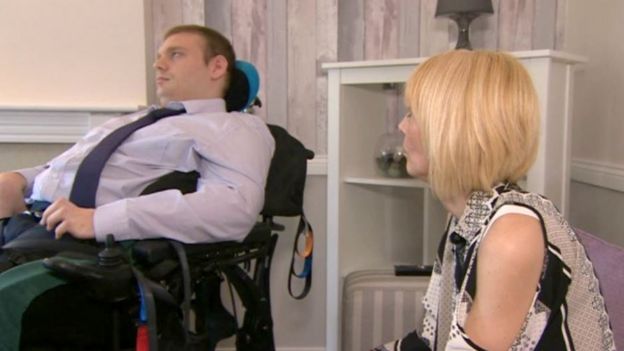 She said: "The driver, he could have been firmer, he could have refused to drive the bus.
"Why did my son have to leave the bus when he had done nothing wrong?"
Mr Hazelgrave said: "I'd just like them to move. That's all it takes."
First Bus said it had apologised to Mrs Hazelgrave and stressed that customers using the wheelchair area were required to make way where reasonable to do so.
It said: "Our driver explained the situation to Luke and provided a ticket to confirm the space around the wheelchair area was full."
http://www.bbc.com/news/uk-england-leeds-39266193